You are here:
GlocalClim researchers meet for a half-time workshop
GlocalClim researchers meet for a half-time workshop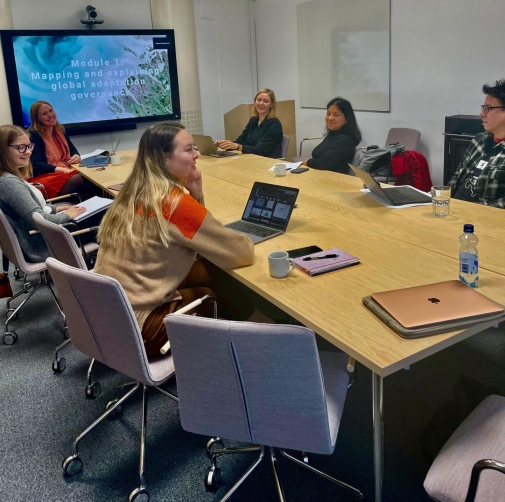 On 29 October 2021, the project participants of GlocalClim presented their research which seeks to map, explain, and understand global adaptation governance and its effects in the Global South. Particular emphasis was on the patterns, justice, and legitimacy of adaptation activities and policies of global actors such as corporations and international organizations.
At the workshop, it became clear that research in the project falls into three main modules, pertaining to mapping and explaining (1) global adaptation governance, (2) justice and legitimacy in global adaptation governance, and (3) global governance effects on adaptation in the Global South.
The first module focuses on mapping and explaining global adaptation governance. Karina Shyrokykh gave an overview of her ongoing research, including how to use the method of machine-learning based text classification to study climate-related debates on social media. Maria-Therese Gustafsson introduced the book project "The Moral Foundations of Private Adaptation: Evidence from the Mining Sector", where she and Lisa Dellmuth are assessing the moral qualities of private adaptation responses of the 37 largest mining companies in the world, seeking to draw academic and political attention to transparency, accountability, participation, distributive justice in private adaptation. David Fornborn contributed with insights into how trends in global adaptation can be pedagogically visualised, especially regarding time series data. Outreach at the science-policy interface forms a central part of all GlocalClim research.
The second module centers on mapping and explaining justice and legitimacy in global adaptation governance. Suanne Segovia presented her research on perceptions of justice and legitimacy in the UNFCCC among non-state actors and the sources of environmental legitimacy beliefs. Lisa Dellmuth introduced the book project "The Legitimacy of International Organizations: How Elites Influence Public Opinion", co-authored with Jonas Tallberg, which is forthcoming with Cambridge University Press (2022). The book examines how elites influence citizens' beliefs in international organization legitimacy to tackle important problems such as climate change, and uses content analysis and survey-experimental methods to do so. Evelina Jonsson and Therese Christoffersson presented their work on quantitative mapping of sub-national data, aiming to explain local variations and formations of legitimacy beliefs.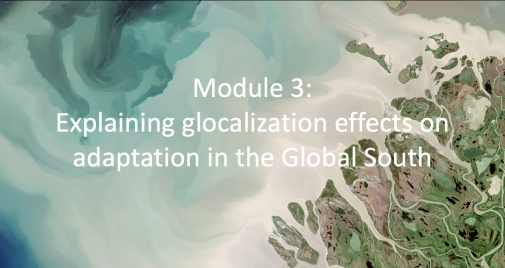 The third module deals with mapping and explaining global governance effects on adaptation in the Global South. Jorge Rodriguez Morales presented an analytical framework for analyzing the political economy of climate change adaptation in Latin America, paying particular attention to the effects of global and local integrated regimes on adaptation. Kristiane Patt gave an overview of her critical Master's thesis research on the adverse impacts of climate change on security and peacebuilding. Isabella Andersson spoke about the policy report produced for the Environmental Governance program, and a data story for the LandPortal. Based on GlocalClim research she has provided practitioners with an overview of the multiple links between mining and climate change and policy recommendations for how to improve governance for sustainability.
Finally, Mathis Lohaus and Chris Höhne (Freie Universität Berlin) hold a keynote speech on "Translating the norm bundle of an international regime: The case of climate change in the context of the Paris Agreement". Their research is part of the TRANSNORM project at Freie Universität Berlin in collaboration with the Department for Natural Language Processing, Institute of Computer Science, University of Leipzig. The keynote posed important discussion on the limits and opportunities of climate governance research, on how to improve outreach, and how to deepen collaborations between GlocalClim researchers and researchers at other universities and organisations.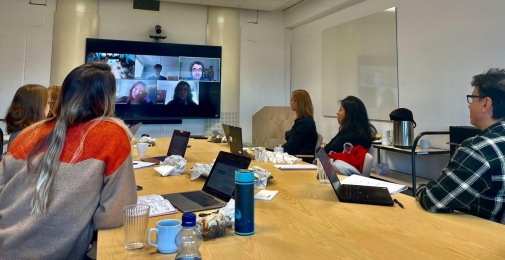 Related central publications
Dellmuth, L.M., Gustafsson, M.-T., "Global Adaptation Governance: How Intergovernmental Organizations Mainstream Climate Change Adaptation", Climate Policy, DOI: 10.1080/14693062.2021.1927661.
Dellmuth, L.M., Bender, F.A.M., Jönsson, A.R., Rosvold, E.L., von Uexkull, N. (2021) "Humanitarian Need Drives Multilateral Disaster Aid", Proceedings of the National Academy of Sciences of the U.S.A., 118(4), e2018293118.
Gustafsson, M.-T., Scurrah, M. "Unpacking the extractivitst state: The role of weak state agencies in promoting institutional change in Peru", Extractive Industries and Society, 6 (2019), pp. 206-214.
Kural, E., Dellmuth, L.M., Gustafsson, M.-T.,"International organizations and climate change adaptation: A new dataset for the social scientific study of adaptation, 1990–2017", PLOS ONE, 16(9): e0257101.
Rosvold, Elisabeth L. and Buhaug, Halvard (2021) "GDIS, a global dataset of geocoded disaster locations", Sci Data, 8 (61).
Shyrokykh, K. (2021)"Help your neighbor, help yourself:The drivers of European Union's climate cooperation in trans-governmental networks with its neighbors", Governance, online first.
Workshop program
09:00-09:15 Welcome and project update
09:15-10:00 Presentations and discussion
15' Coffee break
10:15-11:15 Presentations and discussion
15' Break
11:30-12:30 Lunch and virtual keynote by Mathis Lohaus and Chris Höhne on the topic TRANSNORMS: The translation of climate change norms.
12:30-13:00 Summing up and outlook for the GlocalClim project
Last updated: December 2, 2021
Page editor: Gabriel Holmbom
Source: Department of Economic History and International Relations