You are here:
GlocalClim participation and research in Glasgow at COP26
GlocalClim participation and research in Glasgow at COP26
Lisa Dellmuth and Suanne Segovia were present in Glasgow at COP26, conducting research and participating in the conference. Segovia participated in the Research and Independent organisations (RINGO) daily meetings, where researchers gather to discuss and prepare statements for decision-makers at the COPs.
The fieldwork was conducted in the form of surveying non-state actors who were observers at the COP26 about their perceptions towards the UNFCCC and COP discussions. The data will be useful to understand the levels of confidence in this organisation and their opportunities to effectively materialise climate policies.
An interview with Suanne Segovia was conducted on the site of the conference on her role as a researcher at COP26 and her expectations on the conference. Suanne Segovia, focusing on climate justice and governance legitimacy, met with representatives for indigenous people and other non-state actors participating in COP26. She states that her research contributes to conferences such as COP26 by exposing the different perceptions and expectations that are represented. Her research shows how geografical area as well as cultural and historical background influence expectations on climate change mitigation and adaption goals, even within the same category of non-state actors. At COP26, in the daily RINGO meeting, researchers and non-state actors made statements and passed them to the delegations in hope of influencing the discussion. RINGO gathered reasearchers and organisations in important climate change networks – promoting future collabrations in both research and outreach activities.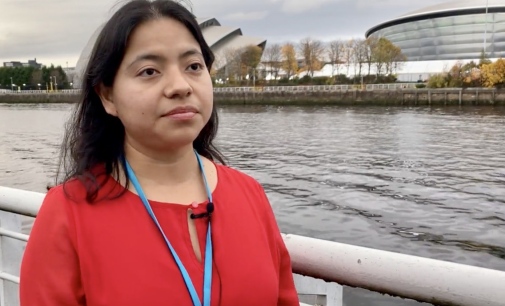 Last updated: December 3, 2021
Page editor: Gabriel Holmbom
Source: Department of Economic History and International Relations