From Cold War to post-Cold War: Conflicting narratives and political uses of the past
The Finnish historian Juhana Aunesluoma discusses the efforts of the OSCE to establish a dialogue on historical disputes between Russia and the West, and to mediate their ongoing memory political conflicts related to the end of the Cold War.
Recent developments have made clear that ghosts from the past linger on the current state of relations between Russia and the West. Following Russia's annexation of Crimea in 2014 and the military conflict in Eastern Ukraine, and Western countermeasures in the form of economic and financial sanctions, diametrically opposing narratives on the evolution of the European security order after the end of the Cold War in the 1990s have emerged. These prevent a constructive dialogue on the root causes and origins of today's problems between Russia and the West.
The disagreements center around views common in today's Russia that the West mishandled its foreign relations regarding a comprehensive post-Cold War peace settlement at the turn of the 1990s. Especially contentious has been a Russian claim, supported by some scholars in the West, that the US broke its promise not to extend NATO beyond Germany's eastern borders in the 1990s. Russian observers have also highlighted the evaporation of the 'collaborative spirit' of the late 1980s on the behalf of the Western powers after they had secured German reunification on Western terms in 1990. Western interpretations, on the other hand, have shifted the burden on the failures of the post-Cold War security order to Russia and its revisionist claims under President Vladimir Putin to extend its power system in the ex-Soviet space.
What the recent disputes about the origins of the current Russia-West impasse show, is that narratives – tales and stories of past events and their interpretations – play an increasingly important role in foreign policy and diplomacy. While it touches upon current disputes about history and memory between Russia and Western countries and institutions, the paper's focus is on recent attempts in the OCSE to establish dialogue on historical disputes between Russia and other countries, and to mediate their ongoing memory political conflicts. The aim of the OSCE supported project, in which the author has participated, has been to develop practical policy-making tools to facilitate a process through which the current conflict of narratives can handled within the community of diplomats and experts.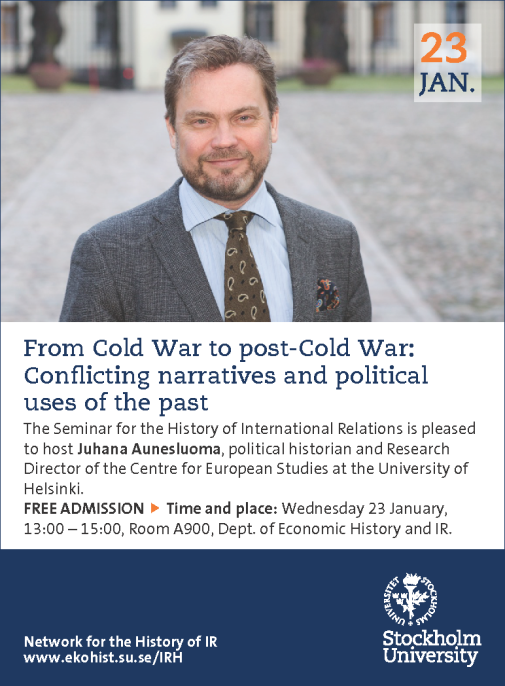 Senast uppdaterad: 16 januari 2019
Webbredaktör: Aryo Makko
Sidansvarig: Aryo Makko

Relaterade länkar och webbplatser