Diplomacy in Practice in the 1940s and 1950s
How Non-Officials and Personal Politics Helped Shape the Post-War World
Historians of international relations often overlook the political roles played by diplomats' spouses and other non-appointed diplomatic actors in the daily practices of those relations. This seminar zooms in on everyday diplomatic work, arguing that in order to understand how Western diplomacy helped shape post-war international relations, we need to understand the processes that governed it.
In the mid-twentieth century, the heterosexual diplomatic couple functioned as an organizational unit as well as a symbol in daily diplomatic work. The presented project uses a micro study of a diplomatic couple as a tool to unravel the mechanisms of daily Western diplomacy in the 1940s and 50s. Focus on a couple's daily activities brings the diplomatic function of more people into view: staff, friends, family.
Tracing the everyday movements of a Dutch top diplomat and his wife in the transnational community of diplomats of wartime United Kingdom and postwar United States, the study highlights the norms and expectations that determined their work. It shows gendered and personalized practices of everyday diplomacy had political consequences.
Susanna Erlandsson (PhD, History) combines an interest in how conceptual frameworks influence our understanding of international history with a preference for detailed empirical research. She is a postdoctoral researcher at Uppsala University, Sweden, and has just returned from two years abroad as Visiting Research Fellow at the University of Amsterdam (2017/19) and London School of Economics and Political Science (2018/19). Her dissertation Window of opportunity. Dutch and Swedish security ideas and strategies 1942–1948 (Uppsala 2015) won three prizes. Recent publications include 'Off the Record: Margaret van Kleffens and the Gendered History of Dutch World War II Diplomacy', International Feminist Journal of Politics 21:1 (2019). She is currently working on the book Personal Politics in the Postwar World: Western Diplomacy Behind the Scenes, to be published by Bloomsbury Academic.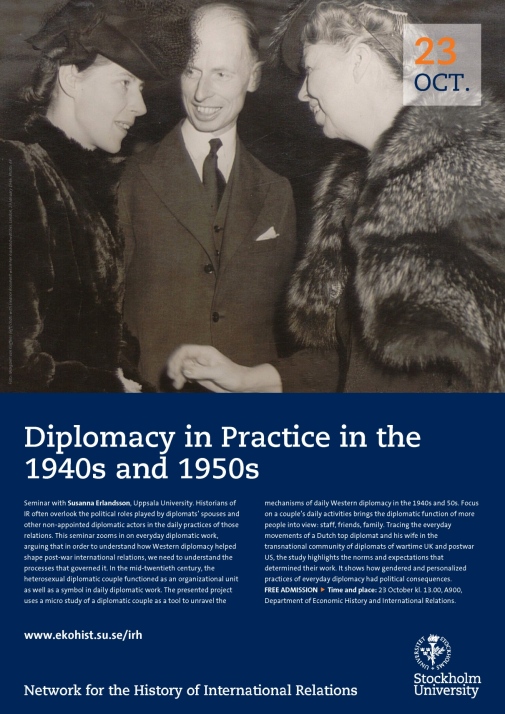 Senast uppdaterad: 22 oktober 2019
Webbredaktör: Aryo Makko
Sidansvarig: Aryo Makko

Relaterade länkar och webbplatser