16 april: 200 år av fred i Sverige / 200 Years of Peace in Sweden (Workshop)
Welcome to an online workshop about 200 Years of Peace in Sweden, arranged by the Hans Blix Centre for the History of International Relations. The workshop will be held via Zoom on Thursday 16 April, 8.45–15.00.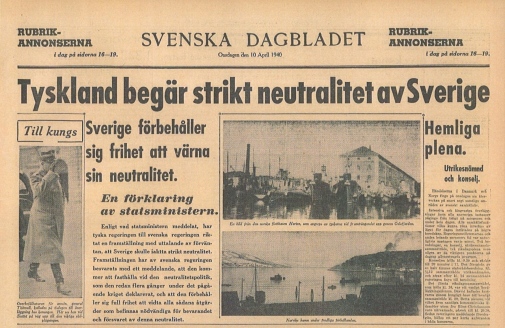 Sweden avoided to be involved in armed conflicts and carried out a policy of non-alignment in peacetime and neutrality in war. Some of the questions that the workshop will address are the following: In what ways is Sweden's policy of non-alignment, neutrality, and peace a unique historical experience? What has the role of non-state or semi-state agents and institutions been in promoting peace? Which external and internal factors have been most important in defining Sweden's non-alignment and neutrality? To what extent did the policies reflect national and/or domestic party interests?
If you would like to participate contact Nevra Biltekin (Nevra.Biltekin@historia.su.se) to receive texts prior to the workshop.
Organizing committee: Nevra Biltekin, Leos Müller, Magnus Petersson & Aryo Makko
Program:
Christopher Seiberlich, University of Tübingen: "Equality for peace. The »North-South Conflict« and social democratic foreign policy in West Germany, the Netherlands and Sweden"
Janne Väistö, Åbo Akademi University: "Finland, Sweden and Swedish-speaking Finns in a Cold War Context"
Fredrik Egefur, Lund University: "Swedish Movements for Peace 1883-1917: An International Perspective"
Leos Müller, Stockholm University: "Neutrality and Sweden's foreign policy, 1794-1856"
Anne Hedén, Swedish Labour Movement's Archives and Library: "The Swedish Lotta Movement and it's Neighbors: Navigating Neutrality, Peace Building and Women's Issues in the Nordic/Scandinavian Context"
Jacob Westberg, Swedish Defence University: "Why Small States Manage to Stay Out of Wars: Explaining Sweden's 200 Years of Peace"
The detailed program can be downloaded below.
Senast uppdaterad: 2 april 2020
Webbredaktör: Aryo Makko
Sidansvarig: Aryo Makko

Relaterade länkar och webbplatser